Betika introduced their version of the mega jackpot dubbed Betika Mabingwa jackpot where punters have an opportunity to win KES 100 Million when they correctly predict 17 games.
The KES 100 Million appears to be modelled after the sportpesa mega jackpot where bonuses are on offer starting from 12 games correctly predicted upto 16 games correctly predict if and when the whole shebang has not be concurred.
So are Betika Mabingwa jackpot bonuses worth it? Lets take a look.
This weekend's Betika Mabingwa jackpot payout was as below:
Winning combination 1,2,X,1,2,X,1,X,1,X,1,1,1,1,1,X,2.
Bonus payouts
14 correct predictions – KSH 484,368 each
13 correct predictions – KSH 75,365 each
12 correct predictions – KSH 12,564 each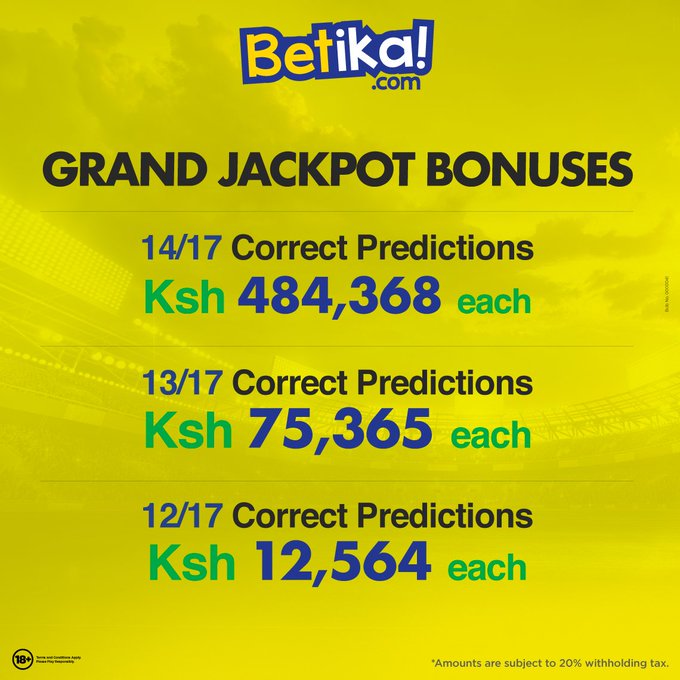 As you can see the payouts are quite lucrative with the lower end of 12 out 17 games won paying out over KES 12,000 to the lucky punters.This jackpot is worth the effort especially for those who were keen on the sportpesa mega jackpot.
The only shortcoming of the Betika Mabingwa jackpot is that it appears that the KES 100 million purse does not grow week on week as the sportpesa mega jackpot used to do.
Despite this small short coming the bonus offerings on this jackpot appear to be lucrative and it is worth a try.
Click here to get this week's Betika Mabingwa jackpot predictions